BRUXELLES
Bruxelles (francuski) ili Brussel (nizozemski) je glavni i najveći grad Belgije. Gradska općina Bruxellesa koja danas obuhvaća tek gradsko središte ima 142.853 stanovnika i površinu od 32 km², dok šire područje Regije glavnog grada ima oko milijun stanovnika. Regija je službeno dvojezično područje, a prema nekim podacima među stanovništvom prevladavaju govornici francuskog.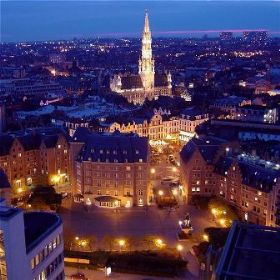 Bruxelles je sjedište dvije od tri središnje institucije Europske unije: Europskog povjerenstva i Europskog vijeća (Vijeća ministara). Ovdje se nalazi i političko sjedište NATO-a i Zapadnoeuropske unije.
Poznat je kao grad srdačnih i ljubaznih domaćina, izvrsne kuhinje, prekrasnih trgova, bučnih ulica, mirnih parkova te lijepo oslikanih postaja. Osvojit će vas Stari i Gornji grad (Royal Palace i Palace of the Nation ), njegovi trgovi (Grand Place ), fontane (Manneken Pis - bruxelleska maskota), slikoviti pješački labirint ulica Svetog otoka (Sacred Isle) s mnogo trgovina, restorana, aristokratska četvrt Sablon, puna kafića, antikvarijata, te gotička crkva Notre-Dame au Sablon. Nemojte zaobići poznatu konstrukciju Atomiuma, prošetajte do masivne Palaise de la Justice, ne
propustite Waterloo Battlesite ili pak Mini-Europe. Ne zaboravite da je Begija rodno mjesto stripa – posjetite Comic Strip Centre. Pogledajte dojmljivu zbirku flamanskih umjetnika kao što su Rubens, Bouts i Memling u Museumu of ancient art… I ne zaboravite kušati belgijsko pivo !